Virtual Acoustic Cafe
February 25, 2021 @ 7:00 PM

-

9:00 PM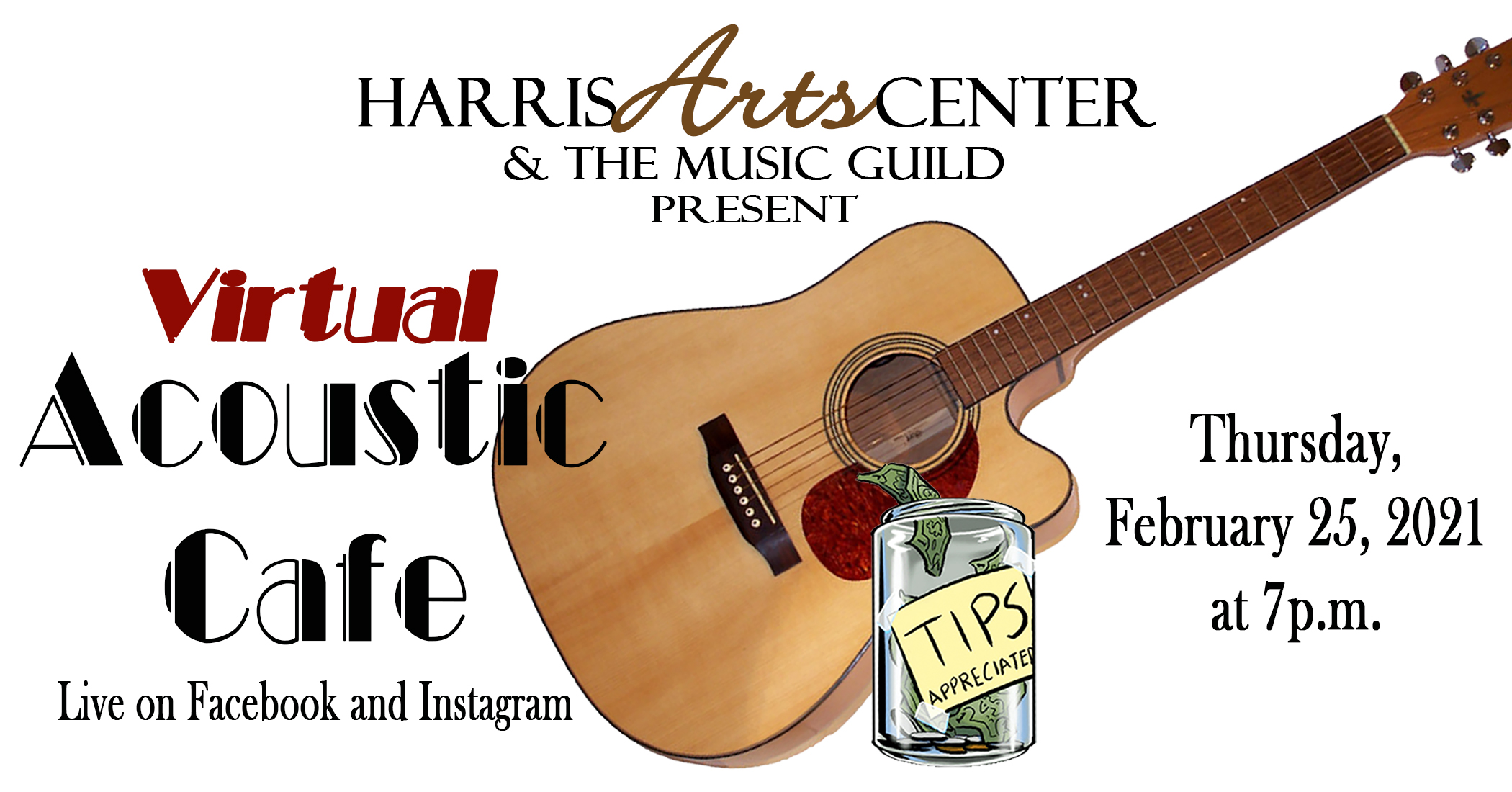 The Harris Arts Center is pleased to announce the first Acoustic Café of 2021. In efforts to continue to bring artistic programming to our community in the midst of COVID 19, the Music Guild of the Harris Arts Center will present the popular Acoustic Café Live on Facebook and Instagram Thursday, February 25 at 7p.m. Performers for this event include John Buckner, David Elliot, Charlsey Etheridge-Minor and Montie Nelson.
Acoustic Café began in 2019 as way to offer patrons the opportunity to hear local talent in a relaxed setting. As we adjust to the limitations of 2021, what could be more relaxed than enjoying performers from your own living room? There will be no cover charge for this virtual event, but viewers will have the option to leave a donation through our PayPal virtual tip jar.
John Buckner's love of music began at a young age when he and his twin brother started a band in the fourth grade. The pair played at local school dances until they were fourteen, and a year later Buckner began playing as the house band at the GO GO Club in Chattanooga. After high school, Buckner worked with the Armstrong Agency in Macon and played the college circuit with a group called Flinthill before becoming the house band at The Playlate Club in Chattanooga. In the early 80's, the original members of Flinthill reunited and became White Water Junction. White Water signed a recording contract with Ray Stevens in Nashville and opened for many of the top country acts in the nation. In 1984, White Water recorded "Sleeping Back to Back" that reached the top 100 in Billboard Magazine. A decade later, John and his twin brother rejoined forces and formed a blues band called The Buckner Brothers Band. They are still performing several times a month and on his own, John has led the contemporary service at Salem Baptist Church in Dalton for the past eleven years.
David Elliott is from Rome, Georgia. Throughout the years he has performed as a session player on recordings and in various duos, trios, and bands. David writes, plays, and sings from the heart and performs a melodic, fingerpicking style of acoustic guitar music. Most recently, David has had the opportunity to record and perform as a solo guitarist, songwriter and singer. His first CD, Muttie's Buddy, his all instrumental solo guitar CD, All Tuned Up and No Place to Play, and his newest CD, What's Left of Me, have all been released on the independent Muttie Dog Records label.
North Georgia native Charlsey Etheridge-Minor began her musical journey at a young age.  Like many artists, she grew up singing in church, then in school choirs and other community events.  After obtaining a Bachelor's in Music from Lee University in 2003, Etheridge moved to music city, Nashville, TN, to pursue her childhood dream.  While in Nashville, Charlsey worked on honing her songwriting, singing, and overall musicianship by collaborating with industry professionals.  She had the pleasure of working with Grammy Award winners Steve Wariner, Harley Allen (songwriter), Randy Kohrs (producer/engineer of Jim Lauderdale's Bluegrass Diaries), as well as Guitar virtuoso's Richard Smith, David Greer, Jack Pearson, formerly of the Allman Brothers Band, and talented bassist Billy Peterson (Steve Miller Band) among many others.  Etheridge has also taken the stage at some of Nashville's most respected venues including the World Famous Station Inn and Bluebird Cafe. Currently, she works as Concert Director at the Creative Arts Guild while still sharing her passion for music and performance.
For more information, please contact the Harris Arts Center at 706-629-2599.