Official String Band Festival
March 27, 2020

-

March 28, 2020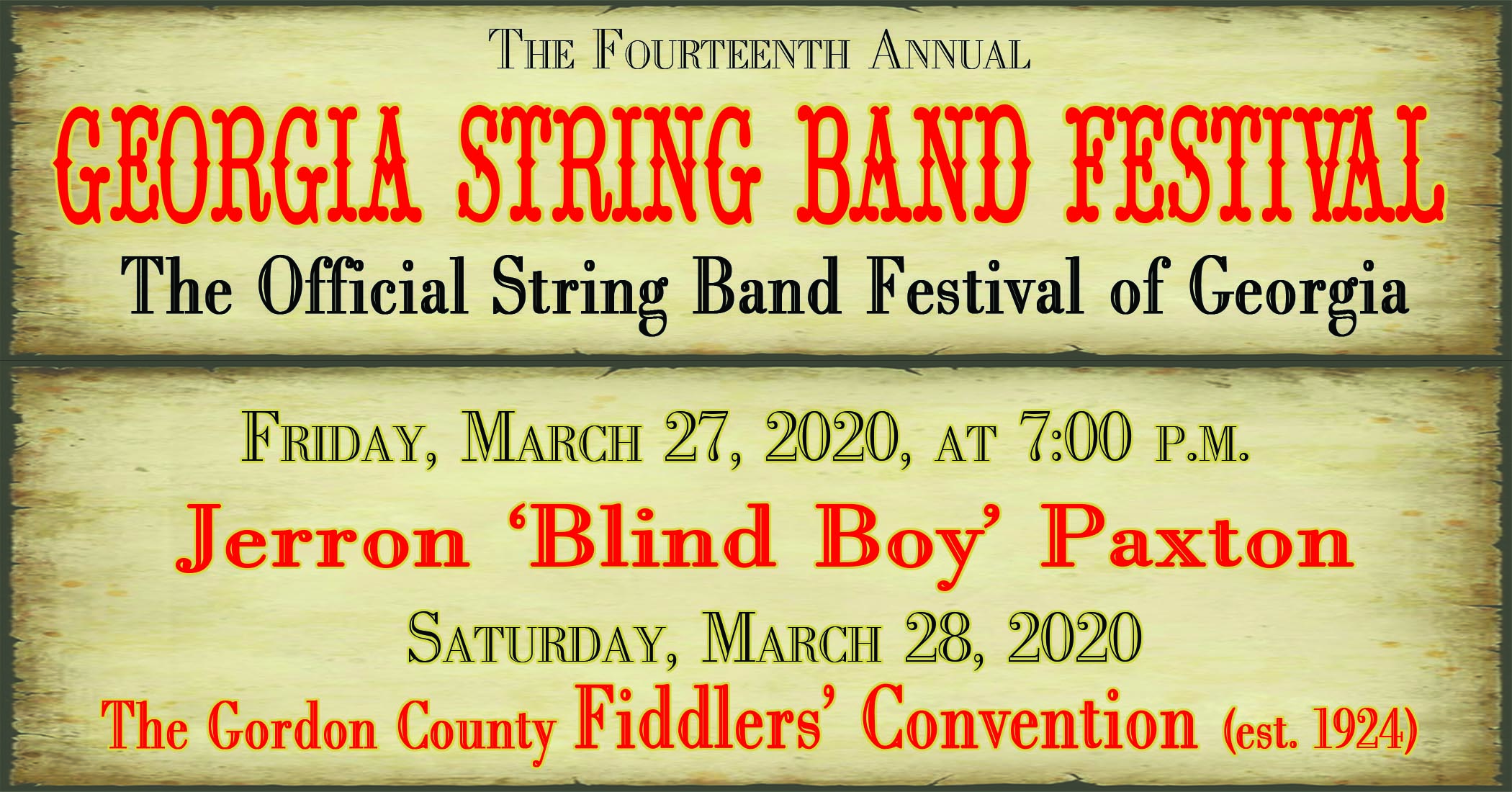 Georgia String Band Festival
The Harris Arts Center proudly welcomes Jerron "Blind Boy" Paxton to the Ratner Theater stage. He will kick off the 14th annual Georgia String Band Festival on Friday, March 27, at 7:00 pm. Tickets are $25, and seating is limited.
Although still in his 20s, Jerron "Blind Boy" Paxton has earned a reputation for transporting audiences back to the 1920's and making them wish they could stay there for good. Blind Boy Paxton may be one of the greatest multi-instrumentalists that you have not heard of. Yet. And time is getting short, fast.
Jerron performed to a sold out audience at the Lead Belly Tribute at Carnegie Hall on February 4, 2016 along with Buddy Guy, Eric Burdon, Edgar Winter, Kenny Wayne Shepherd, and other stars. It is no exaggeration to say that Paxton made a huge impression. In the four years since his incredible performance at that star-studded show in one of the world's great concert houses, Paxton's own star has been rising fast. He opened for Buddy Guy at B.B. Kings in NYC; for Robert Cray at the Reading PA Blues Festival, and performed at numerous other festivals including: Woodford Folk Festival & Byron Bay Blues Festival in Australia; Calgary Folk Festival in Canada; Jewel City Jam in Huntington WV; Freihofers Jazz Festival in Saratoga Springs FL; Clearwater Festival in Croton-on-The Hudson NY; Fayetteville Roots Festival in Fayetteville AR: Cambridge Folk Festival in the UK., Harvest Time Rhythm & Blues Festival in Ireland; and headlined the 2017 Brooklyn Folk Festival.
Jerron Paxton is a two-time participant in the Keeping The Blues Alive Cruise and is the new Artistic Director of the Port Townsend Acoustic Blues Festival & Workshop at Centrum in Port Townsend, WA.
This young musician sings and plays banjo, guitar, piano, fiddle, harmonica, Cajun accordion, and the bones (percussion). Paxton has an eerie ability to transform traditional jazz, blues, folk, and country into the here and now, and make it real. In addition, he mesmerizes audiences with his humor and storytelling. He's a world-class talent and a uniquely colorful character that has been on the cover of Living Blues Magazine and the Village Voice, and has been interviewed on FOX News. Paxton's sound is influenced by the likes of Fats Waller and "Blind" Lemon Jefferson. According to Will Friedwald in the Wall Street Journal, Paxton is "virtually the only music-maker of his generation—playing guitar, banjo, piano and violin, among other implements—to fully assimilate the blues idiom of the 1920s and '30s."
Gordon County Fiddlers' Convention
Competition for the Gordon County Fiddlers' Convention will begin at 1 p.m. on Saturday, March 28, in the Ratner Theater, with registration beginning at noon. Some of the finest musicians in the tri-state area will compete in Traditional Singing, Buck Dance, Banjo, String Band, and Fiddle for $3,000 in prize money.
Saturday's armbands are only $10, with children 12 and under free, and will be sold at the door. After obtaining an armband, patrons may come and go as they please throughout the afternoon. It's a fun-filled, toe-tapping day of Old Time pickin' and grinnin'.
Musicians must be age 15 or older to compete. Participants may register throughout the day, but no entrant will be accepted after numbers for order of appearance are drawn.