Murder Mystery Dinner Theater
January 24, 2020

-

January 25, 2020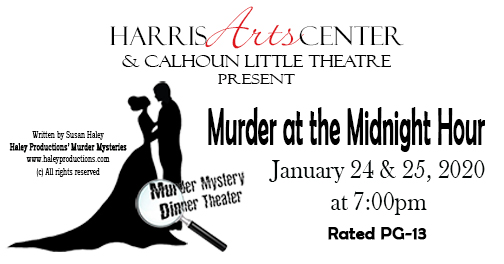 The Calhoun Little Theatre and Harris Arts Center are excited to bring "Murder at the Midnight Hour", the 4th Annual Murder Mystery Dinner Theater, to the HAC stage. Join us January 24 or 25 for an exciting show and dinner catered by David Burton of Wall Street Catering. Performance begins at 7p.m.
"Going to the chapel and we're gonna get murdered, uh, sorry, married…Hippies and wealthy snobs just don't mix! Mr. Henry Hogget and Mrs. Abigail Windsor cordially invite you to attend the midnight wedding of Jewel Opal Hogget to Roger Quinton Windsor on December 31. Weddings are usually such groovy occasions. Unfortunately, this one will be the exception to the rule. This one will be deadly!" Who among you will become a cold-blooded killer? Or a victim?? Be warned and beware – it could be the person seated next to you! The audience is invited to dress the part as a guest at this New Year's Eve wedding.
This fun event is presented as a fundraiser on behalf of the Calhoun Little Theatre and Harris Arts Center. Monies raised will help continue technology upgrades for the Ratner Theater. Upgrades will enhance future productions and thus allow us to better serve the community.
"Murder at the Midnight Hour" is presented through special arrangement with Haley Productions. All authorized performance materials are also supplied by Haley Productions.
Tickets are $35 each and are available online, or may be purchased in person at the
Harris Arts Center or by calling 706-629-2599. A discount of $35 will be given to anyone purchasing an entire table of eight. Full tables must be purchased by phone or in person at the Harris Arts Center.  Reservations are required by January 22.