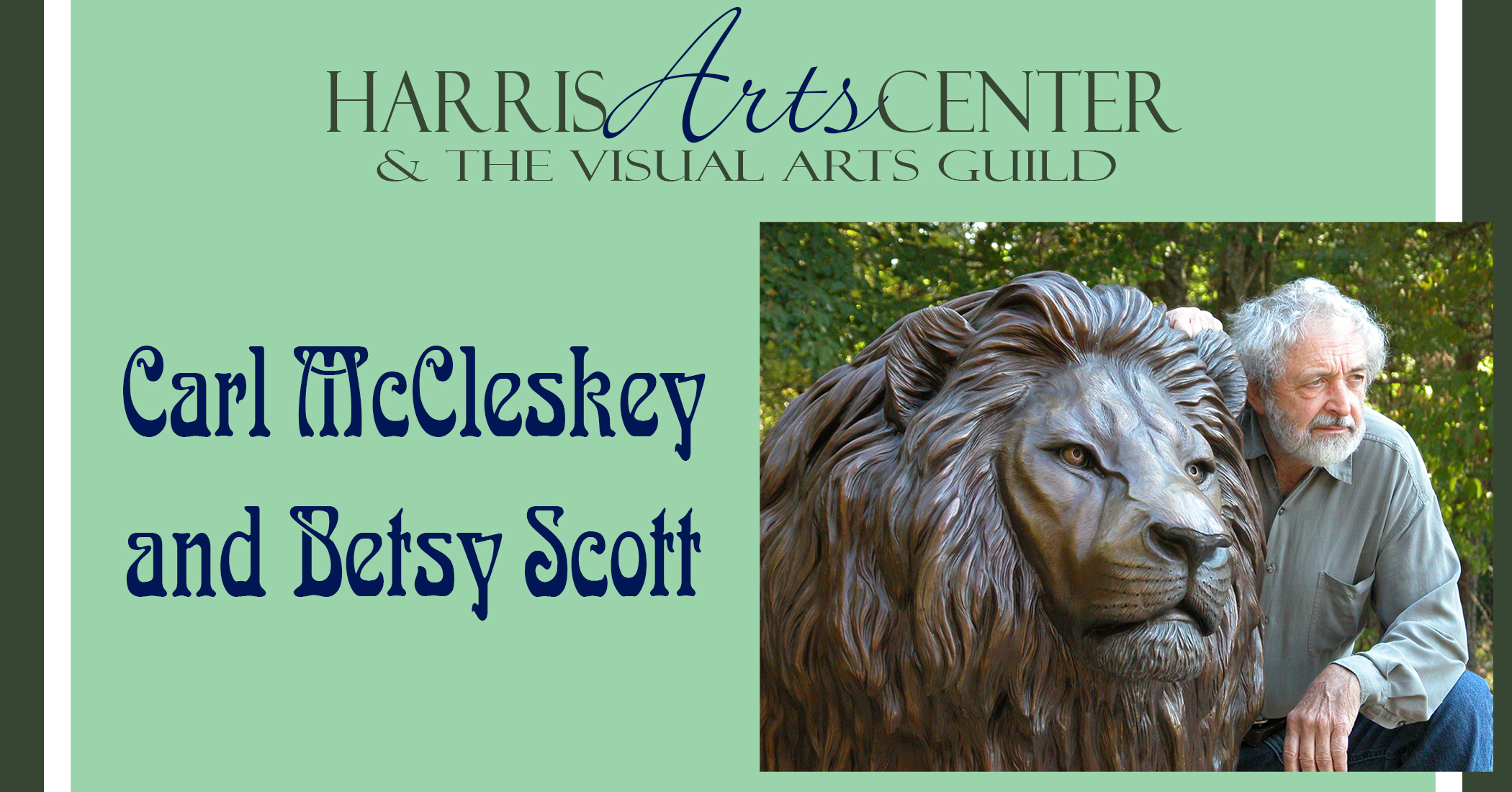 Tuesday-Thursday: 10a.m.-4p.m.
Friday: 10a.m.-2p.m.
The Visual Arts Guild at the Harris Arts Center is proud to announce its newest art show "Pursuing the Extraordinary Nature of Nature". Husband and wife artists, Carl McCleskey and Betsy Scott, will have their bronze sculptures and photography on display through October 16, 2020. Free and open to the public, the arts center is open Tuesday‒Thursday, 10 a.m.‒4 p.m. and Friday, 10 a.m.‒2 p.m.
Carl and Betsy moved from Marietta, Georgia to the "deep woods along the Alabama/Georgia border near Cloudland, Georgia" in 1984. They desired to get back to the "civilized society of animals and creeks and trees", stated Betsy in a 2008 interview with publisher of The Lookout View, Holly Midgley. The couple met five years earlier when Betsy stopped into Carl's blacksmith shop to learn about the trade, and the two have been working together since. At times they collaborate on a piece, and other times they work independently on a project. Over the years the couple has honed their craft, and they now agree that Carl has a better sense of structural balance while Betsy is better at the finer details. Neither of the two artists have a formal art education. Carl attended Georgia Tech studying mechanical engineering for a short time, and Betsy was an Emory University grad who studied creative writing.
Carl and Betsy's creations began as a hobby. The two did not realize there was a chance to make a living selling their art until they participated in a one-man show at Wofford College and sold a piece of art. Shortly thereafter, Carl was invited to the Southeast Wildlife Art Show and later began showing his work at other venues. It wasn't long before he began getting regular commissions for work.
Along the way, Betsy took up photography. This began when there was a need for the couple to take photos of their artwork for advertising and took off from there. Betsy has since developed her skills and displays her photographs alongside Carl's bronze works. Today their artwork can be seen in the United States, Australia and England and right here at the Harris Arts Center.
The Arts Center is located at 212 South Wall Street in Calhoun.  For more information, contact the center at 706-629-2599.