Acoustic Cafe
February 13, 2020 @ 7:00 PM

-

9:00 PM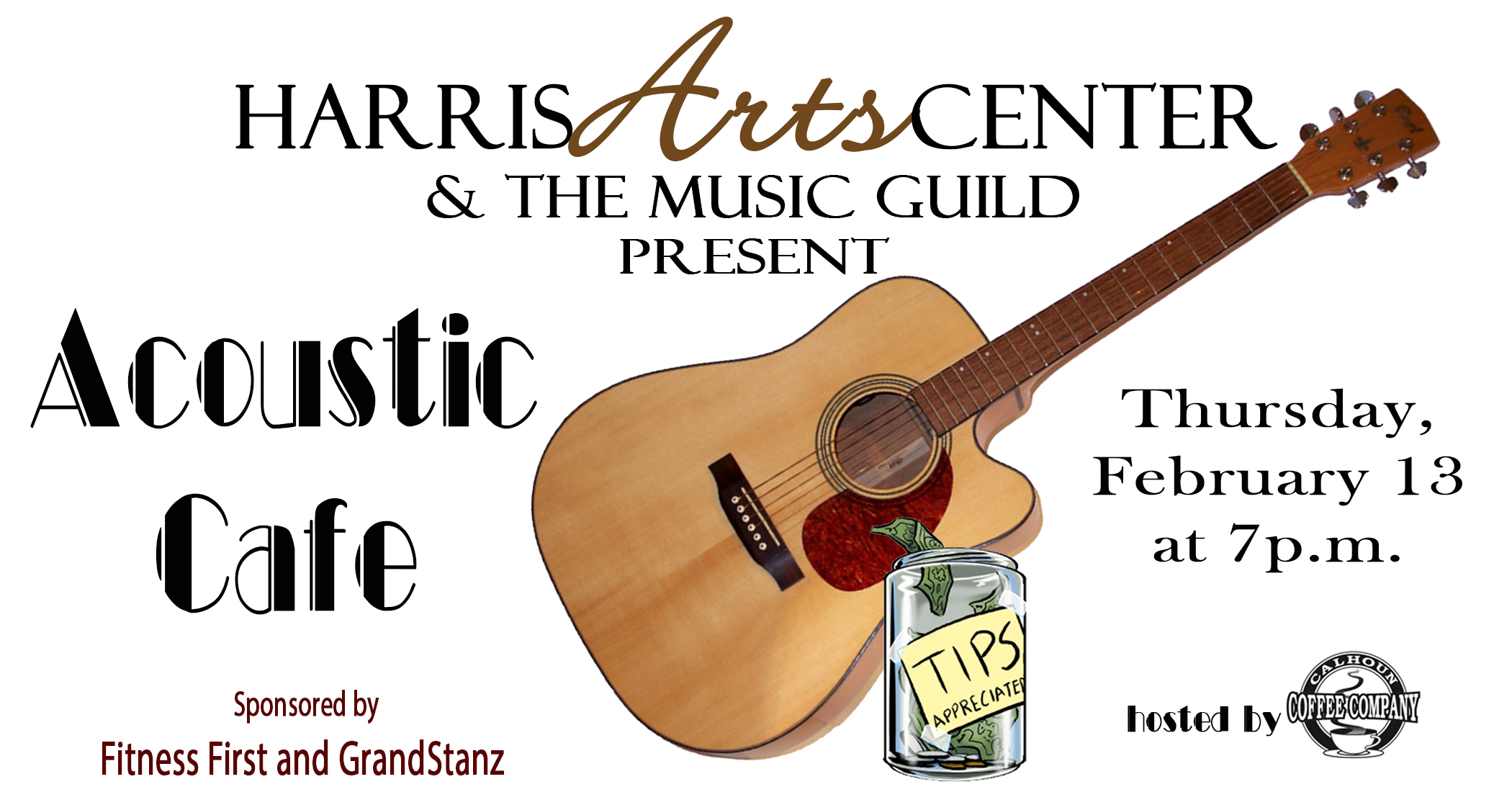 Back for the second year, Acoustic Café dates have been set for 2020. Inspired by The Bluebird Café in Nashville, Acoustic Café offers patrons the opportunity to hear local talent in a relaxed setting. The Music Guild at the Harris Arts Center confirmed that this series would be back for its second year following the same bi-monthly schedule that was widely successful in 2019.
Acoustic Café is set to feature four singers/songwriters each performance with the first being February 13 at 7p.m. Our first performers of 2020 include Russell Cook, Joseph Evans, Steven Hare and Rick McKee.
Russell Cook is a Gordon County native who currently lives with his family in Rome.  Russell and his wife, Cameron, have worked together as the Little Country Giants for a number of years; his most recent project is the improvisational three-piece, Russell Cook and Sweet Teeth.  Russell trained as a painter at the University of Georgia and Georgia State – with additional study at the Atlanta Institute of Art and California College of Arts and Crafts – and works in a variety of visual media; he serves as Associate Professor of Art with tenure at Georgia Highlands College.
Joseph Blake Evans is Chairman of the Board of the Harris Arts Center, and has been involved in the performing arts for the vast majority of his life.  He plays music tinged with blues, bluegrass, country, jazz, and old-time string band music.  Evans is a UGA-educated classicist and lawyer raised in Plainville, Joseph appears tonight alongside his primary musical partner and friend, Russell Cook.
Stephen Hare started singing at age five in church choirs and with family. Hare found inspiration in many areas throughout his life. His first inspiration came from his parents and grandparents who descend a long line of ministers, musicians and music teachers. Hare began playing trumpet in the sixth grade and by eighth grade had taught himself how to play guitar. In later years, Hare played with the Chattanooga Monday Night Big Band and the Etowah Jazz Society. Currently, Hare plays in Reverend Rock n Roll with his brothers, Philip and Jonathon, and drummer Gerald Champion. Outside of the band, Hare uses his talents in church and other community endeavors. He sings in his church choir, leads their worship band, teaches private lessons and has just recently finished playing for Gordon Central High School Performing Arts in the production of "Fly by Night". "Being able to do something I love for over 45 years and being able to make a living at it has been a great personal achievement."
Rick McKee is a singer/songwriter, multi-instrumentalist, music educator and composer. His first CD, New Religion, features twelve original songs in a variety of styles. McKee's second CD, Soft Horizon, was recorded to accompany the yoga sequences and practice of Sue Hopkins, CYA, in Cartersville, Georgia. Rick performs all vocal and instrumental parts on both CDs. Rick taught public school music for 30 years and is now a part-time assistant professor of music education at Kennesaw State University. He and his wife, Angee, started Cosmic Possum Music, a digital music publishing business. His music is performed by choirs all over the country. Together, they started the Ascension Coffee House, which features many different local songwriters well as nationally known song writers such as Brett Benowitz, Carolyn Evans and Tom Kimmel, in a listening room environment.
There will be a $5 "cover charge" at the door – tickets will not be sold in advance. A cash bar with beer and wine will be available, and Calhoun Coffee Company will be on site offering coffee and pastries for purchase. Audience members are encouraged to tip the entertainment. For more information, please contact the Harris Arts Center at 706-629-2599.
Acoustic Cafe is sponsored by Fitness First of Calhoun and GrandStandz.